Good Care Month: 'I love my work'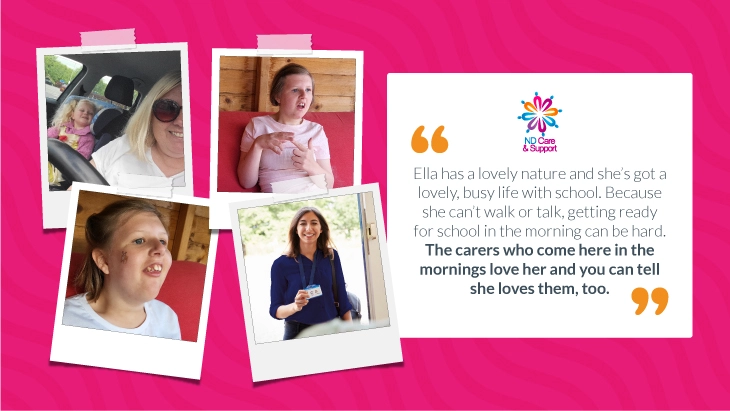 We're celebrating Good Care Month in recognition of the amazing work of carers and the incredible contributions they make to our communities.
Kind and compassionate carers are at the heart of all care services, and their commitment makes a difference for Service Users and their families on a daily basis.
ND Care & Support has helped Ella Evans to reach her potential over the last 13 months. Ella, 19, has cerebral palsy and autism which affects her ability to move and communicate, but that doesn't hold her back.
Every morning, Ella is visited by two of our carers who help to get her ready for school, where she enjoys learning and socialising. It was the heart-warming relationships that Ella enjoys with her carers that inspired her mother, Mererid, to begin a career in care.
In Mererid's own words, she's explained how rewarding it is to provide good care…
"Ella has a lovely nature and she's got a lovely, busy life with school. Because she can't walk or talk, getting ready for school in the morning can be hard. The carers who come here in the mornings love her and you can tell she loves them, too.
"They come in at 7am to get Ella out of bed. Sometimes she doesn't want to get up but she's always got a smile on her face. The carers help her to shower, they wash her hair, brush her teeth and dress her. I always hear them chatting and laughing as I do chores around the house and look after my youngest daughter.
"I've really got to know the carers over the last year. They call in every morning, five days a week when Ella has school and they're down-to-earth people, just like me. I really liked them and I got the idea to become a carer one day when we were having a chat.
"I joined up in November 2021 and I can honestly say I love my job. I get on great with everyone I work with and I really like the clients. If you're going to be a carer, you have to care. I treat people how I'd like them to treat my daughter or me.
"Seeing people happy and having a laugh is the best part of the job. I've met some characters along the way and you've got to have an open mind. I have one Service User who is in bed 24 hours a day. To see him smile or his eyes light up when we have a joke or singsong is so special.
"It's rewarding because you get to make such a big difference. You visit some Service Users and they don't have families, so you're the only person they see and they come to trust you. That's when I think to myself, this is what good care is all about. I love my work."
Interested in a career in care?
If you would like to explore the idea of a career in care where you can make a difference to people's lives, we can support you.
As a registered member of Care Inspectorate Wales (CIW), our Care Workers play an essential part in meeting the bespoke needs of the 450+ individuals and families we support. With your help, we can extend our support to others and continue making a difference to everyone we care for.
At ND Care & Support, our expert recruitment team works closely with you to map a career path to match your ambitions. To kickstart your career in care, you can request an application form or view our most recent vacancies.
‹ Previous article