We can help you and your loved ones
Get in touch today to discuss how we can help! Call us on 02920 827 583 or complete the form below and we'll be in touch.
* Required information
Live the lifestyle you choose with our wide range of services
ND Care & Support is an award-winning care provider you can trust.
Everyone deserves to live as independently as possible in the comfort of their own home, and access to high quality care and professional support.
We'll work closely with you to create a bespoke flexible care plan for you and your family.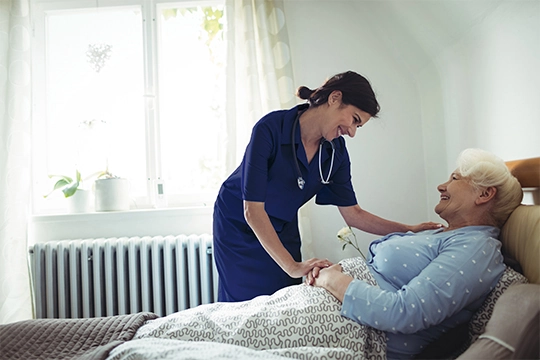 Choosing the right care provider is essential
We appreciate there's so many things to think about when choosing the right care provider.
How do I arrange Private Care?
If you would like to arrange private care for you or a loved one, please contact us today. We can have a no-obligation chat about how we're able to support your needs and provide support to enable you to live as independently as possible.
When do I need Private Care?
It's important to remember that everyone's individual circumstances are different, so having Private Care in your own home can benefit you or a loved one in many different ways. It's worth thinking about Private Care if you feel you need help to live independently in your own home, such as having difficulty coping with everyday activities. If you don't want to move into a care home and it's still safe to live in your own home, or it can be adapted, then Private Care may be suitable for you.
How can Private Care help me?
Private Care in your own home enables you to live as independently as you can and supports the lifestyle you choose. Our wide range of services can help you with several activities, for example:
Homecare
Ad-hoc companionship visits
Long-term specialist care
Bathing and washing
Getting in and out of bed
Medication assistance
Food preparation
Domestic tasks
Assistance with shopping
Social outings
Activities in the community
Personal affairs
Pet assistance
How much does Private Care cost and how can I pay?
We believe that that you should only pay for what you need. That's why every package is tailored to suit your individual needs. We will meet with you to discuss what type of care you need and costing. Once your Care Plan is agreed, you can pay via:
BACS
Debit/Credit Card payments over the phone or online
Cheque in the post
You may be eligible for help with the costs from your local council. Their decision to pay all or some of the costs of Private Care will be based on a financial assessment which looks at your income and savings. If you aren't eligible, you will have to pay for these costs yourself. In either outcome, you may be eligible for benefits such as Attendance Allowance and/or Personal Independence Payments, which can contribute towards the cost of Private Care.
What will my care involve?
When we start to provide care to you or a loved one, our dedicated team will work with you to put together a person-centred Care Plan. The Care Plan will describe the support you've requested to receive from our carers, who will complete a list of activities each time they visit you. Carers will keep a record of the activities they've undertaken when visiting you for you to keep, and you will also have the opportunity to provide feedback about the care you've received.
There are some activities we can't do, such as those that put you or our carers at risk. This can be discussed in more detail at time of enquiry. It's common to make adaptions and changes to a person's care as their needs can change over time. We'll carefully review your Care Plan on an ongoing basis to make sure your needs are continuously being met.
Who will provide Private Care to me?
We'll try to ensure you're visited by the same carer whenever it's possible. This isn't always possible because of the carer's work patterns, annual leave, and other factors. However, you will always be visited by a suitable carer who is trained to meet your needs. We understand that stability is important for the quality of your care, and we will aim to keep any changes to your carer(s) to a minimum.
All our carers have been carefully vetted. They undergo an Enhanced Disclosure and Barring Service (DBS) Check, which is the highest level of background check available, before they're recruited. We never compromise our safeguarding standards. If you have any concerns at any time, please contact us. We're always here to help.
What training and qualifications will my carer(s) have?
All our staff have the necessary training and qualifications for the role they do. Any new carers we employ will undergo our induction programme, which includes:
Medication administration awareness
Safeguarding and protection of adults
Basic life support
Topical medication
Control of substances hazardous to health
COVID-19
Fire awareness
Food safety
Health and safety
Infection prevention and control
Moving and handling
Safeguarding for children
New carers will also undergo the All Wales Induction Framework, which equips them with the knowledge, skills and values they need to provide safe and competent care. We take ongoing personal development seriously. All staff are required to complete Health & Social Care Diplomas relevant to their roles, and many carers have risen through the ranks to their careers with our support. Where more specialist skills are needed, we provide specialist training.
What accreditations do you hold?
ND Care & Support is a registered member of Care Inspectorate Wales (CIW), the independent regulator of social care in Wales. CIW provide assurance on the quality and safety of services, inspect and drive improvement of regulated services, and take action to ensure services meet legislative and regulatory requirements.