ND Care & Support's Palliative Care team recognised at regional awards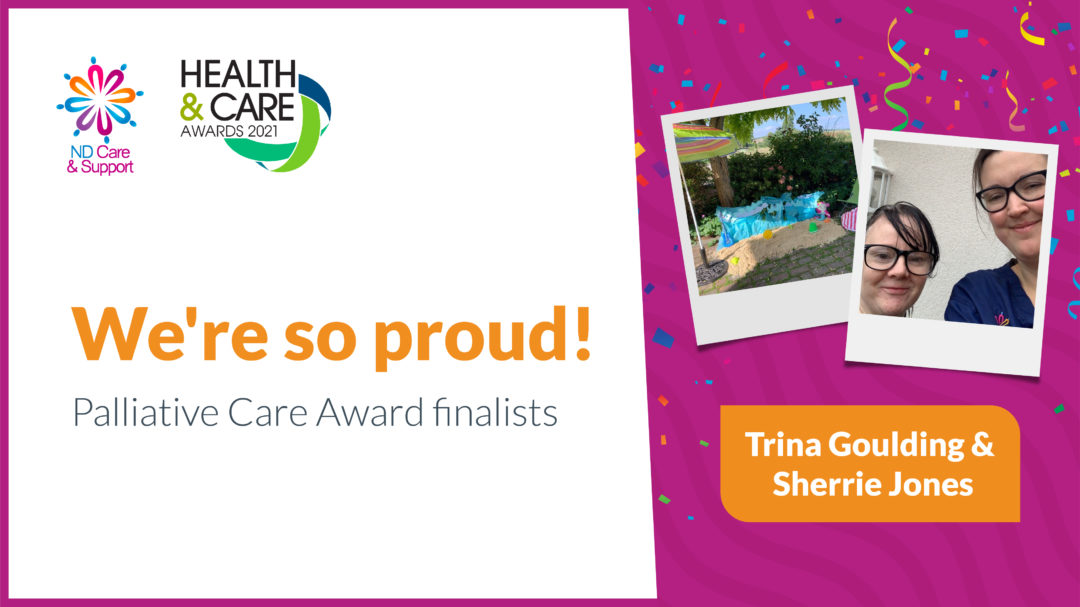 Last week was a proud moment for ND Care & Support as two of our compassionate Care Workers reached the final of the East Wales Health & Care Awards.
Trina Goulding and Sherrie Jones were runners up for the Palliative Care & End of Life Award, which recognises outstanding care that supports Service Users to make their own end-of-life choices based on what's important to them and their families.
Hosted this year by Dr Dawn Harper of hit-television show Embarrassing Bodies and featuring congratulatory video messages from a host of celebrities, the ceremony is organised annually by the South Wales Argus as a salute to the region's care heroes.
Working in care for eight and nine years respectively, Trina and Sherrie provide care for people in South-East Wales including Gwent, Abergavenny, Monmouth and Usk, and it was their care for one Service User in Cwmbran that stood out to the judges and saw them shortlisted.
Palliative Care making meaningful memories
Thousands of people took a trip to the seaside as lockdown restrictions were relaxed in August 2021 to soak up the sunshine, play in the sand and take a dip in the sea. At the time, Trina and Sherrie were caring for a lady who wanted to do the same, but her health was deteriorating quickly and it wasn't possible.
Doing everything they can to fulfil our Service User's final wish, Trina and Sherrie built a beach on the driveway, setting up an amazing seaside scene that brought tears to everyone involved.
Making wonderful memories for our Service User and her husband, they all enjoyed the beach for an afternoon; and of course, they didn't forget the ice cream.
Zenzy Flower, Registered Manager of ND Care & Support's Abertillery branch, said:
"Our Care Workers pride themselves on always listening to what our Service Users want and do everything they can to make it happen. It means the world to us to be able to fulfil people's last wishes.
"At a time when someone has just hours or days to live, our Care Workers provide the essential care and support to individuals and their loved ones, making sure everyone is as comfortable as possible during such a difficult time. Both Trina and Sherrie really do live and breathe the principles of care with their compassionate and sensitive nature.
"They recognise the importance of getting to know their Service Users and families, building a connection by understanding their likes, dislikes, hobbies and occupations so they can really make in difference and share stories and experiences during the last moments. We're really proud of the difference they make and the memories they create. This is the first time any of our Care Workers in Palliative Care built their own beach, however I'm sure it won't be the last!"
About ND Care & Support
ND Care & Support provides a range of bespoke care services for children, young adults and older people throughout Wales. We work with individuals and their loved ones, either commissioned through local authorities and health boards or privately, to ensure they can live as independently as possible in the comfort of their own home, and continue to be involved in community activities as much as they're able to.
We believe that everyone who requires our support must have access to high quality care that meets bespoke individual needs. Find out more about our services
Enjoy a career in care
To kickstart your career in care, you can request an initial call back from our team today or view our vacancies if you're ready to get started.
‹ Previous article
Next article ›