Caring for your career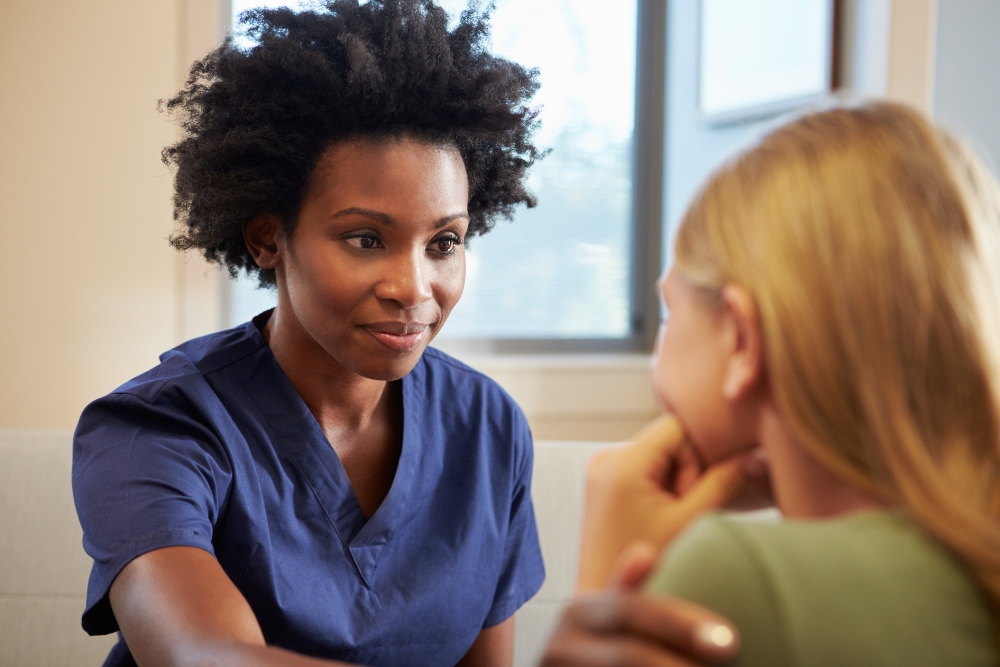 Most people don't picture themselves doing the same job forever. Career progression is a natural part of your working life and something anyone can aim for, especially in the care sector. 
A career in care can be one of the most rewarding lifestyle choices you'll ever make, and it's our mission at ND Care & Support to provide you with great career opportunities from day one.
100% of our Managers started as Care Workers. Here's what your career can look like with us…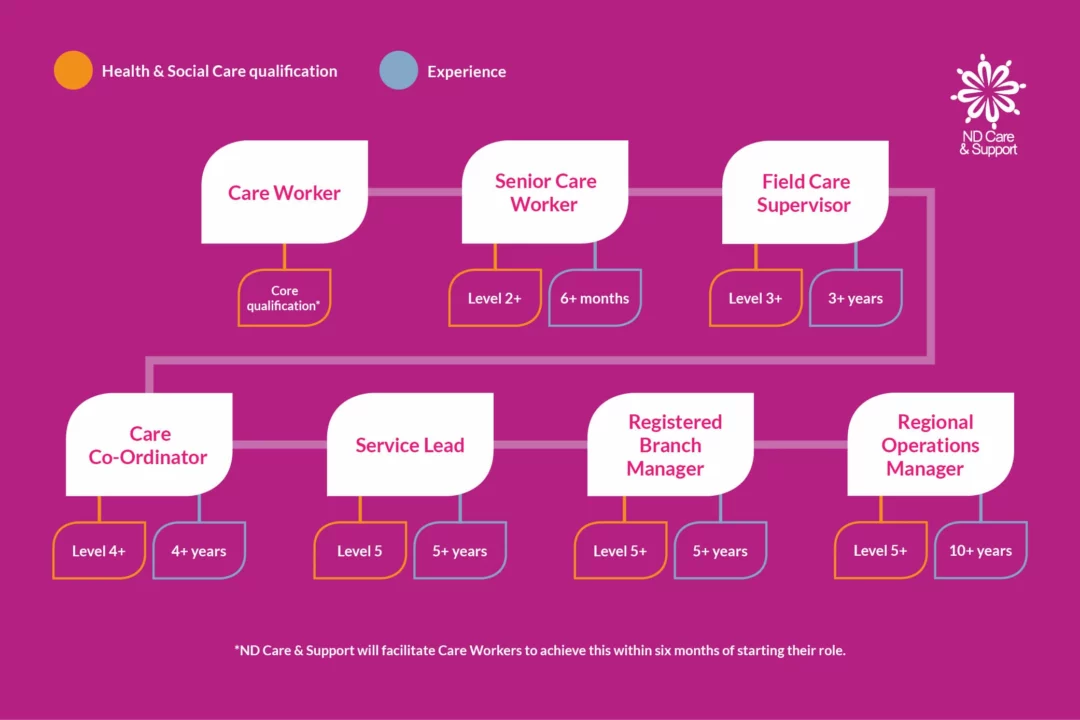 What we need from you to start your career in care
It's a common misconception that you must have a background in care to start a career in care.
Care Workers come from different sectors, such as customer service, retail, education and hospitality to name just a few, and draw on transferable skills at the start of their new career. Others complete college courses, apprenticeships or voluntary work to get started, and some come to the industry after caring for a family member or friend.
All we ask from anyone looking for a career in care is that you're over the age of 18, have a driving licence so that you can support people in the community, and are caring, compassionate and hard working. We'll then make sure you get the relevant inductions, training, qualifications and support to flourish in your career and provide the highest levels of care.
More about the roles we have to offer
As a registered member of Care Inspectorate Wales (CIW), we support more than 450 individuals and their families. With opportunities to work all across Wales, there are plenty of positions and places for you to progress your career.
Here are some of the types of roles that can be a part of your career path at ND Care & Support…
Care Worker
In this type of role, you will be embedded in the community and face-to-face with Service Users. This will allow you to see the life-changing difference you make at first-hand. Some previous experience in the care sector can be advantageous but it's not essential.
We'll support you with on-the-job training and supervision as you gain the experience and qualifications you need to develop. This will include our own induction programme and the All Wales Induction Framework.
Senior Care Worker
Still a frontline-facing role, these roles are for those who want to step up their career in care. You will have the chance to showcase your experience and support others to develop their skills. This includes additional duties to manage people or services, such as reviewing care packages or spot-checking standards.
You will achieve Social Care Wales Registration at this point and we will also support you to gain relevant qualifications, which can lead to further supervisory roles. It's at this stage that you could begin to specialise in a particular setting. The growing national need for Care Workers presents you with more options than ever to specialise, so the opportunities available can take your career in many different directions.
Care Co-ordinator
This office-based role has a wider remit and a variety of responsibilities. Calling on your organisational skills every day, you will plan and schedule rotas to make sure we deliver a great service to our clients.
It's important you gain a deep understanding of what our Service Users need so you can provide effective solutions to the challenges that arise, as well as handling supervisions and staff appraisals. You will undergo the All Wales Induction Framework for Social Care Managers at this stage and if you're ambitious to progress, this can develop to Branch Management roles.
Registered Branch Manager
Now responsible for overseeing the delivery of care services across an area, you will wear many hats but your role will have a focus on supporting carers and Service Users through their journey with ND Care & Support. Although office-based, you will make sure the care service is of the highest possible standard in both quality and consistency.
This role will require you to have financial awareness, lead inspections, manage complaints and demonstrate safeguarding responsibilities. Communication skills are important in any role in the care sector. In this role, you will rely on them to build and maintain excellent working relationships with internal and external stakeholders, especially to provide mentorship to the staff you manage.
Interested in a career in care, but not sure who to speak to for further advice?
If you're thinking of changing roles or planning your career, it obviously makes sense to speak to people who have done the same. Hear from one of our staff who used transferable skills from retail to secure a management role in the care sector.
At ND Care & Support, our expert recruitment team work closely with you to map a career path to match your ambitions. To kickstart your career in care, you can request an initial call back from our team today. Find out more today.
You can also learn about our recruitment process, including the interview, vetting, training and induction stages.
‹ Previous article
Next article ›