Six transferable skills for a successful career in care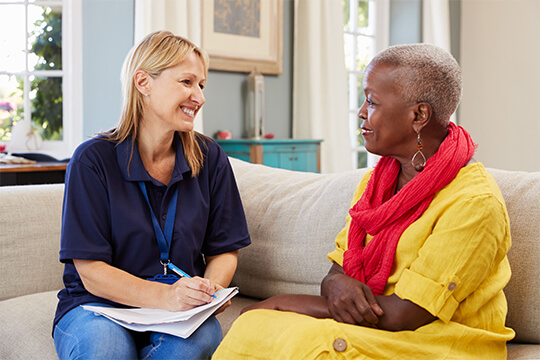 Do you want to make difference? Thinking about a career in care? There are hundreds of roles across the country looking for passionate Care Workers to help Service Users live their lives to the fullest.
We recruit compassionate people as Care Workers, and some of these candidates have little or no background in care. Instead, they draw on their transferable skills along with our training and support to enjoy a new lease of life in a new career.
From customer service-related roles in hospitality to office-based jobs, people have joined us from all walks of life. That's why we've put together a list of the key transferable skills for a rewarding and successful change of career.
There's never a shortage of work. So, if you're in another industry and open to the idea of a new direction, see what skills you can re-use…
The six skills for a role in care
1) Time management
Time management skills are essential to care work as it's a time-restricted job. Have you had to master the school run, doctor or dentist appointments and your own priorities? If so, you'll appreciate that being well-organised means you can give Service Users the most out of their time with you.
2) Communication skills
Being aware of what you say, how you say it and your body language is key when working with Service Users and their families. Think about how giving a presentation to your boss is different to how you speak to your family at home, but it's equally important to tailor your communication for both.
In addition to being outgoing and approachable, caring for others largely involves listening, understanding and recognising an individual's needs.
3) Work well under pressure
You may be faced with changes or unexpected events throughout your day as a Care Worker. Responding to challenges that come out of the blue isn't easy. Think of a time when you've had to adapt and find creative solutions. Maybe it's a late train on your way to an important appointment – did you panic or did you think logically to get back on track ASAP?
The ability to respond effectively to pressure is important for providing care to the highest standards but also to looking after yourself.
4) Strong work ethic
Are you the type of person to use your initiative and go above and beyond? Overcoming obstacles and seeing it through until the end is a valuable skill. If you've made your way through stormy weather to get your family shop at the supermarket, you can use this type of commitment as a Care Worker. A strong work ethic can be the difference in making sure a Service User is looked after in an emergency or not.
5) Resilience
Being resilient and maintaining a positive attitude is vital because you can be working with people suffering and in distress day in and day out. With ND Care & Support, you're part of our family and we will provide all the support you need.
6) Professionalism
Care work can be emotionally trying but it's crucial for Care Workers to maintain boundaries while still providing unconditional care, indiscriminately and compassionately. Caring for someone requires respect and discretion.
Work with ND Care & Support
ND Care & Support is a leading provider of specialist support services to children, young adults and older people throughout Wales.
There are plenty of people equipped with the skills to succeed in a career in care, even if they haven't realised. It's a common misconception that you need experience but that isn't always the case. We can provide all the training and support you need, you just need to provide the passion.
There are a number of other benefits with ND Care & Support, including our 'Recommend a friend' referral scheme where you could receive a £100 gift voucher of your choice. Get in touch if you'd like to find out more.
Our specialist recruitment team can help you to plan your next steps and reach your potential. Let's care for your career, so you can care for our service users. Request a call back today.
‹ Previous article
Next article ›