World Alzheimer's Day: Our 'Magical moments'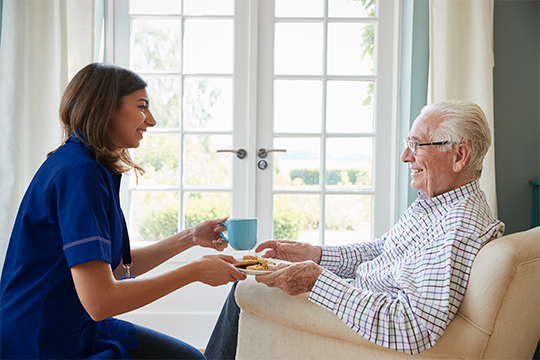 Alzheimer's is a progressive disease that affects multiple functions of the brain and it's the most common cause of dementia.
There are almost 50 million people living with dementia around the world. Over 850,000 people with dementia live in the UK and 46,000 of those are in Wales, according to research by the Alzheimer's Society in 2019.
To mark World Alzheimer's Day, we asked our Care Workers to share their 'Magical moments' and rewarding experiences when looking after people with dementia.
'Magical moments'
No two types of dementia are the same. Making decisions about care for a person living with dementia is one of the most difficult things you can face as a family.
We know every individuals' care needs are different. That's why we offer bespoke services to make sure you're getting the very best care and support possible for a better quality of life.
One therapy for people living with dementia is to help them connect with their life story by sharing their memories and experiences. Beverley, one of our compassionate Care Workers, has shown perfectly how we can put this into perspective.
Beverley said:
After learning that a gentleman I cared for used to be a boxer I arranged to take him to see a boxing match nearby. I'll never forget his face light up through the whole event. It's stayed with me forever!
Other activities that help with dementia symptoms involve cognitive stimulation, such as word puzzles, and keeping as physically, mentally and socially active as possible. This has obviously been difficult during the coronavirus (COVID-19) pandemic.
We provide responsive and flexible care to promote the dignity, equality and individual expression of our Service Users. Carolanne, another of our committed Care Workers, has helped one Service User in her care to carry on doing the activities that matter the most to her.
Carolanne said:
I care for an elderly lady who has advanced dementia. She is lovely; she loves laughing and singing. Sometimes she isn't able to speak at all and other times we have full conversations. We do activities to keep her as engaged as possible and one of her favourite things is crocheting. It's really nice that she sits and tries to understand as best as she can. For a split second, you can see in her eyes that she's with us and it makes it all worth it.
Why is it important to plan for dementia and Alzheimer's?
There are estimates that over 1.5 million people will live with dementia by 2040. A 75% increase over 20-years will cause a severe strain on public services without the appropriate awareness and planning.
There are many misconceptions around dementia and it could be closer to home than you realise. Recognising and understanding the early signs of dementia will help you or your loved ones get an accurate diagnosis and assistance as soon as possible.
Many people think dementia just affects memory loss but it can also affect the way people think, speak, feel and behave. For example, dementia can include problems with concentrating, difficulties communicating with others, inability to judge physical distances and a lack of emotional control.
Our support and care services
Our services allow you or your loved ones to benefit from the same specialist care at home as you would expect in a residential unit. We're a major provider of care and provide valuable support to families, whether you need a full care plan or respite for a short break.
Get in touch to discuss your needs.
The Alzheimer's Society
The theme of this year's Alzheimer's Day is 'Know Dementia, know Alzheimer's.'
If you would like to talk to someone for information, support or advice about dementia, you can call the Alzheimer's Society support line on 0333 150 3456.
‹ Previous article
Next article ›