In our next Meet the Team Q&A, we are proud to introduce you to Hannah Collier, who has worked with ND Care & Support for just over 3 years as a Care Coordinator for Community Support in our Cardiff branch…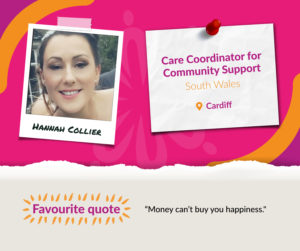 Do you have a background in care work? Can you tell us more about your career journey so far?
Yes, I have worked in the care industry for 10 years, starting as a Support Worker working with adults who have learning disabilities and supporting them within the community. I really enjoyed it and the experience was my first within the industry. Later, I progressed to become a care coordinator and did this job for three years before leaving for maternity leave. After having my son, I took a career break and started here at ND Care &Support initially working part-time as a Coordinator for the homecare department. I then covered maternity leave for the Community Support role and here I am, back where I started in the care industry in my favourite area, doing what I love!
What does a day in your role look like?
An average day for me includes checking emails, answering queries, covering sessions and delivering care if needed, to ensure that nobody misses out on the care and support activities we provide. Alongside this, I complete Carer supervision sessions, I'm involved in interviewing potential Carers to come and join our team, I deal with emergencies and liaise with healthcare professionals. It is a role with many different aspects, keeping it interesting every day.
What key skills are required to do your job?
Patience
Great communication
Organisation
Teamwork
Good time management
What do you enjoy most about your job and why?
I'd have to say that the thing I enjoy most is meeting people, whether this is new staff members joining ND Care & Support or clients and their families who come to us to enquire about our services. I'm proud that I can make sure the care and support individuals receive is second to none – that's an aspect of my job that I love.
What day-to-day challenges do you face in your role?
For me, a challenge is having to prioritise work, when it all feels so important. Each day is different, which makes planning ahead hard.  Some days, there could be a number of priorities to deal with and as Coordinator, I have to work out how to deal with that.
What challenges does the wider care sector face? How do you feel you are making a difference to this?
I think recruitment is one of the biggest problems that the care sector faces. As people are living longer and wanting to remain at home, there is an increasing demand for our services. Looking for, and recruiting, the right people for the role can be difficult. I think that as Social Care Wales recognises the sector as a professional one, more people will feel recognised and rewarded for the hard work that they do, which is key to attracting and maintaining more dedicated Care Workers to our sector.
What is your proudest moment in work or your greatest achievement in your career and why?
I feel very proud to have supported a lady with mental health issues, where I was able to help make a huge difference to her life. When I was working with her, she was in a particularly bad place, but by the time I left, she had rebuilt her life. She had regained her family and completely turned her life around. Being a part of this incredible and positive outcome makes this one stay with me to this day.
What advice would you give to candidates who want to go into care work?
Although working in the care industry is hard work, you'll find that there is nothing more rewarding. Each day in work is different, so you'll never find yourself bored with a role like this. In fact, it can be thoroughly enjoyable. For example, when working in Community Support, one day you could find yourself in the cinema enabling somebody to enjoy things that many of us take for granted, and the next day, you could be bowling or rock climbing where you feel pushed outside of your comfort zone in a positive way. It's a fun sector to work in. Who can say their work is fun? – it certainly is here!
What is your favourite quote and why?
My favourite quote, which I say all the time to my husband and it drives him insane, is "money can't buy you happiness".
I love this quote because no matter how much money I have or don't have, love is the richest thing to me and the love of my family will last a lifetime.
We hope Hannah's Q&A inspires you as much as it inspires us! Tune in soon to meet the next member of the ND Care & Support team…