Laura joined ND Care & Support as maternity cover for our Administrator role and she has been part of the team since June 2018. Since then, Laura has progressed to become a Care Coordinator for Community Support, providing support for adults and children receiving care services in the local community in Cardiff. Find out all about Laura's role in her Q&A…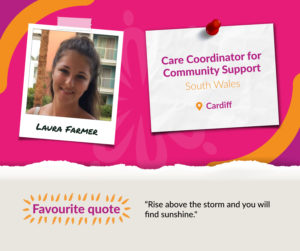 Do you have a background in care work? Can you tell us more about your career journey so far?
I've actually worked in the care industry from the age of 16! After finishing school, I decided to study Health and Social Care level 3 and alongside my studies, I did some work experience in a residential unit, where I looked after 16 residents. While working there, the experience led to an internal position and I worked there for a year afterwards, until moving on to a larger care home where I supported individuals for another 3 years. Following these care roles, I then had a change and worked as an Administrator for a solicitor firm, but after a while, I realised that the change wasn't for me. I wanted to go back into a caring environment as this is where I felt I could make the most difference.
What does a day in your role look like?
I now work as a Care Coordinator for Community Support in Cardiff, providing essential support to vulnerable adults and children with disabilities including autism, learning disabilities and ADHD. We support individuals in the community to remain independent and have a good quality of life, and each day, we are trying to achieve a similar set of outcomes and goals, but every situation can be very different, bringing news pressures all the time. I love being able to contribute to helping individuals who need that extra bit of support to remain independent and have a good quality of life.
What key skills are required to do your job?
I believe the following skills are most important for my role:
Patience
Time management
Organisation
Sense of humour
Forward planning
What do you enjoy most about your job and why?
For me, being able to provide much-needed support to individuals and their families, and seeing the difference that it makes, is the most enjoyable part of my job. It gives me great satisfaction to know that my contribution enables the delivery of high-quality support services to the people who need it most and my role helps people to maintain their independence.
What day-to-day challenges do you face in your role?
A key challenge for me is a shortage of staff, which means that alongside my normal duties as a Coordinator, I also have to go out and provide the care and support myself to help the team deliver care in the community. This means I am out of the office and not able to focus on the tasks I have to do that day, which may cause delays or have a knock-on effect in people receiving the service we provide.
What challenges does the wider care sector face? How do you feel you are making a difference to this?
I think one of the big challenges at the moment is recruitment. There is an increasing demand for care services around the country, but to ensure we are looking for (and recruiting) the right people as Care Workers, we are one of the best-paying companies in the area. We want to ensure that we are rewarding our staff for the hard work that they do and attracting the best talent to provide high-quality care and support for our service users. We are looking for enthusiastic staff who have a passion for caring and supporting individuals with additional needs, so we would love to hear from you if you feel you could make a difference!
What is your proudest moment in work or your greatest achievement in your career and why?
I would say that passing my probation period early and receiving a promotion is my proudest achievement. It was so nice to be recognised for the hard work I was putting in. I didn't have much previous experience, so this showed me that I was doing well and that with a bit of hard work and determination, anything is possible.
What advice would you give to candidates who want to go into care work?
It's simple really… you just need to have a passion for making a difference to other peoples' lives. If you've got that passion, caring will come naturally to you.
What is your favourite quote and why?
"Rise above the storm and you will find sunshine."

I like this quote because it demonstrates that no matter how hard or dark times can get, you can always get through.
We hope Laura's Q&A inspires you as much as it inspires us! Tune in soon to meet the next member of the ND Care & Support team…