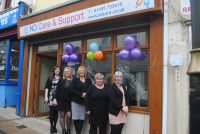 A leading care provider for individuals with specialist needs has celebrated five years in operation in Brynmawr. The team held a celebration in their High Street office on April 14th to thank the local community and colleagues for their continued support.
ND Care and Support opened its doors back in 2011 in the Innovation Centre at Victoria Business Park in Ebbw Vale before outgrowing the base. In 2013 the team moved to their current address on the High Street, Brynmawr.
The team have registered over 250 local applicants for work and currently employ five office staff, three senior care workers and 91 care staff across the region. These staff have provided care packages to over 617 service users across Blanaeu Gwent.
Odette Flower, Branch Manager says of the milestone 'Back in 2011 when we opened our doors for the very first time, we could never have imagined the level of success we would experience. Credit of course has to go to the team here in the office and the brilliant staff who work in our community delivering our care plans'.
The staff employed by ND Care & Support have been supported by Odette and her team with training and other progression opportunities. Over 75% of staff employed by ND Care & Support have achieved qualifications, and a further 21 learners are currently undertaking a QCF programme.
At the end of 2015 Blanaeu Gwent held the highest rate of unemployment across Wales with a reported 9.3% unemployment rate. The ND Care & Support team has committed to ensuring their team supports employment growth in the region.
Rebecca Ford, Director of Care for the business adds 'when we launched this operation in 2011 we knew we had the right formula to deliver sensitive and effective care packages to our service users. Now we want to build on this and ensure that we continue to support and add the prosperity of the region as well'.
The team were joined by over 50 guests as they celebrated their landmark birthday including Carol Hyde representing the Job Centre for the region who said of the occasion 'we established a great relationship with the New Directions team a number of years ago. We introduced their now office administrator to the guys as a work experience candidates. Three years on she is winning awards and supporting the team to keep the region working. Today is a brilliant landmark for the team and I am delighted to help join the celebrations'.
Guests enjoyed a buffet lunch provided by a newcomer to the business community in Brynmawr – The Lounge. This was the catering teams first corporate party, Odette adds 'Mark and the team at the lounge have provided a great spread today, it's good to be able to support another business within our community'.