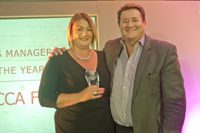 ND Care and Support Director Rebecca Ford has been named 'Manager of the Year' at the New Directions company conference for 2016.
Rebecca who has headed up the operation since 2007 was presented with her award by company Director of Operations John Andrews (pictured).
Speaking about her win John commented 'Rebecca has represented all that is integrity in what she delivers as Director of Care and Support. In a community that works to support our most vulnerable members of society, she has invested in a strategy that has seen one office in Cardiff grow to an additional two bases in Brynmawr and Cross Hands. Rebecca leads the sector with her passion and dedication and exemplifies what it is to deliver a first class service with a team that continues to thrive'.
Rebecca who was also awarded a Level 7 ILM qualification in Coaching and Mentoring by the University of South Wales this year was overwhelmed by her award, she said 'this is such a privilege. This award heralds our whole team's commitment to a sector we are all so passionate about. We have a brilliant management community within the group of companies, so to be highlighted is a wonderful compliment'.
ND Care and Support have recently opened their third operation in Cross Hands. The official launch will take place later this month. Watch this space for more information.