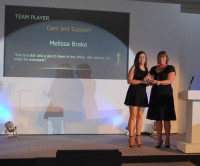 A student local to Brynmawr has been named 'Learner of the Month' by leading work-based training provider Educ8.
Melissa Brake who is employed by Brynmawr business ND Care & Support was given the accolade after completing her level 2 and 3 qualifications in record time.
Melissa, who started with ND Care & Support in March 2013 has also won 'Team Player of the Year' twice at her annual national company conference held in Cardiff (pictured).
A spokesperson for Educ8 explained the reasons behind the award 'Melissa started with ND Care & Support in as an office junior completing Business Admin Level 2 and very quickly progressed to Level 3 by taking on extra work. Not only did she progress but Melissa challenged herself by selecting Level 4 units and did a lot of research to back up her assignment. Since then she has come on leaps and bounds and is an asset to the Brynmawr office'.
The nomination goes on to praise Melissa, just 21years old for her commitment to the care and support sector she works within.
Odette Flower, Registered Manager for the business said of the award 'we were delighted to hear that Melissa had been selected for this award. She has an old head on young shoulders in a sector that has many challenges, and this means her compassion for all of our service users and staff is second to none'.
Melissa now has hopes to enrol on a Level 5 Health and Social Care qualification with ambitions to progress into a management role in the near future.
In addition to Melissa's award, ND Care & Support were also named as 'Company of the Month' for the support they offer the carers who work for the organisation. This award comes at the end of an outstanding year for the business who has received a number of other awards in praise of their services to their community.