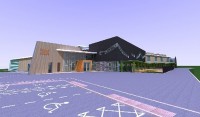 A Care Worker from the Blaenau Gwent area has hung up his tabard for a week to participate in the BNB Arts and Heritage Festival across Brynmawr, Nantyglo and Blaina.
Craig Peet, 23, from Ebbw Vale has been 'donated' by his employers ND Care & Support to deliver a series of bespoke graffiti sessions in a number of schools across the region including Bro Helyg School in Blaina. Craig, who in his day-to-day role works as a Care Worker for the business, based on Brynmawr High Street was gifted to the school as part of the arts festival across the region.
Miss Jones, Year 5 Teacher for the class in Bro Helyg spoke of the reason the school decided to participate 'art is featuring heavily in our curriculum this term. We have been looking at pop art and images from the sixties. This session will allow the children to see a very real contrast between art styles throughout time. This class are a very 'on trend' bunch and have been very excited for Craig's visit'.
Speaking about why he got involved in the project, Craig said 'I focus on graffiti art with special emphasis on character design. The festival is great for the region, and I really wanted to share my passion with the potential designers of the future. I love my day job, but this is a great opportunity to do something different, just for a short time'.
Odette Flower who manages the ND Care & Support office in Brynmawr said of the initiative 'the festival has really put the area on the map creatively. There is a wonderful buzz about the region and people are really responding positively to the whole event. We wanted to contribute to the festival, and when we discovered Craig was such an artistic soul – we knew he was our donation'.
The BND Arts and Heritage Festival ran throughout the week of 20th to 27th September. The event was the first of its kind for the region and it is hoped it will continue to run annually.