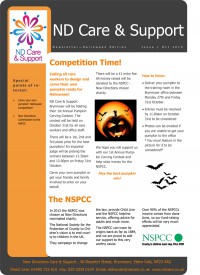 ND Care & Support Brynmawr will be holding their first annual Pumpkin Carving Contest this coming Halloween. The contest is open to all care workers and Brynmawr office staff from across the region.
Prizes will be awarded for first, second and third place for the best pumpkin. An impartial judge has been appointed to judge the competition.
Those taking part will be asked to make a £1 donation to help support New Directions chosen charity the NSPCC.
How to enter…
1. Deliver your pumpkin to the training room in the Brynmawr office between Monday 27th and Friday 31st October 2014.
2. All entries must be received by 11.00am on October 31st 2014 to be considered.
3. A photographic entry via email may be considered if you are unable to make it to the office. N.B. You must feature in the picture for it to be considered
Good luck to you all, we are sure your submissions will be SPOOKtacular…