Quality assurance is a key aspect of the service we provide at ND Care & Support and our Quality Assurance Manager, Melissa, helps us to maintain the highest possible standards. Her role is varied and rewarding, as she is able to see the difference that her work can make. Find out more about the instrumental work that Melissa does in her Meet the Team Q&A.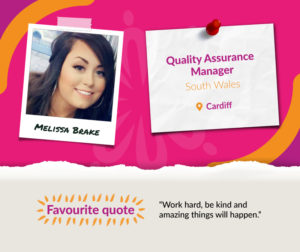 Do you have a background in care work? Can you tell us more about your career journey so far?
I joined ND Care & Support in Abertillery back in October 2012, fresh out of sixth form on an 8-week work experience placement. Following my placement, because I loved the job, I stayed on a voluntary basis to help out over the Christmas period. I was then offered a permanent Administrator position. Over the next couple of years, with the support from my Manager, I successfully achieved QCF Business Administration Levels 2 and 3, and Level 5 in Leadership for Health and Social Care. In April 2018, I was promoted to Quality Assurance Manager – covering all Care & Support branches – and I have since achieved my ILM Level 4 qualification. It's been an exciting journey in the care sector for me already!
What does a day in your role look like?
As Quality Assurance Manager, I support all Care & Support teams to ensure that ND Care & Support complies with its regulatory obligations, internal policies and best practise guidance, and I ensure our service delivery is compliant, consistent and of the highest possible standard. I also line manage our Recruitment Officer, who is responsible for recruiting for all Care & Support branches and improving our recruitment processes.
My working week is structured around branch visits and meetings with Care & Support staff and other internal departments. A day in my role would include monitoring and auditing our quality management systems to enable me to measure and control quality in our services, and ensure teams remain compliant in their extremely busy day-to-day environment. An average day could also include developing processes and procedures to improve our services, or training new internal staff on our systems and supporting existing staff when using them.
Alongside my daily responsibilities, I always have a new project on the g0 in line with our Continuous Improvement Plan, as we are always striving to improve!
What key skills are required to do your job?
Analytical skills and a keen eye for detail
Strategic planning skills
Organisation skills
Good verbal and written communication skills
Time management skills
What do you enjoy most about your job and why?
I love seeing our service improve, for both our service users and our Care and Support Workers. It is extremely rewarding to know that we are providing the best care and support services for the people that need them and supporting our Care Workers in their career. (I'm also a bit of a nerd, and love developing quality management systems that enable us to collect and analyse the information about our service in order for us to make these improvements)
What day-to-day challenges do you face in your role?
The biggest challenge I face within my role is working in such a fast-paced, unpredictable sector. It can be difficult to ensure that everything is running smoothly when you suddenly receive a curve-ball that changes your whole day – but I love the challenge! It is also a tough working in a sector that simply does not have enough funding.
What challenges does the wider care sector face? How do you feel you are making a difference to this?
There are numerous challenges in the care sector. Due to our ageing population and more people living with complex health conditions, there is a rising demand for health and social care, but there is not enough funding to support this. This puts enormous strain on the sector. Despite these challenges, ND Care & Support are committed to paying their Care Workers fairly and treating our service users as individuals, focusing on promoting their choice and independence.
Historically, workers in all areas of the care sector have not had as much support or recognition as they deserve. ND Care & Support value our Care Workers for the amazing work they do and offer ongoing training to staff and support them to progress within the company. ND Care & Support are also currently supporting all staff to sign up with Social Care Wales ahead of the mandatory registration of Domiciliary Care Workers that comes into effect on April 1st. This register brings support and recognition to the Care Worker role and acknowledges their skills and knowledge.
What is your proudest moment in work or your greatest achievement in your career and why?
My proudest moments while working for ND Care & Support were receiving the Care & Support 'Team Player of the Year' award two years in a row at our Celebrating Success Summer Conference. It is important to me that I help and support my team as much as I can – and it is great to be recognised by my colleagues for this!
What advice would you give to candidates who want to go into care work?
If you are passionate about helping others and looking for a rewarding career with incredible job satisfaction, I would definitely recommend looking into a role within the care sector. Care work does not need to be a stop-gap; there are a huge amount of progression opportunities within the care sector and it definitely can be a very fulfilling career!
What is your favourite quote and why?
"Work hard, be kind and amazing things will happen."

I truly believe this! I think great things can be achieved by working hard, staying positive and always choosing kindness!
I also love motivational quotes such as:
"The only difference between a good day and a bad day is your attitude" and "your day is only as good as you make it."
I try to remember these quotes if ever I'm having a bad day – they motivate me to change my attitude.
We hope Melissa's Q&A inspires you as much as it inspires us! Tune in soon to meet the next member of the ND Care & Support team…