Leading Care Provider Relocates in Gwent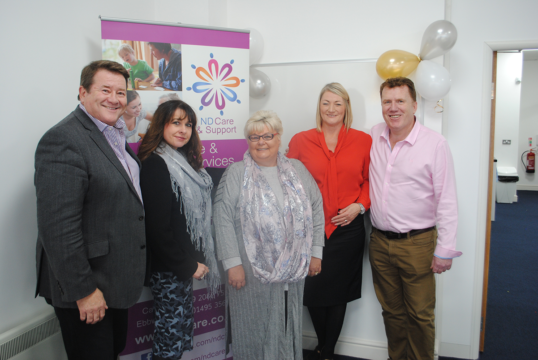 A leading specialist care provider has relocated in the Gwent region for the third time since opening their doors in 2011.
ND Care and Support are an award-winning organisation who work to support individuals and their families with care packages to enhance quality of life. The business has grown enormously since setting up their first office in Ebbw Vale over six years ago. From a small base in 2011 at the Innovation Centre at Victoria Park, the team then moved to a high street location in Brymawr in 2013.
Speaking about the recent 2017 relocation to Abertillery, Rebecca Ford (pictured) said of the move 'our team in Gwent have gone from strength-to-strength and we could not be prouder to support care provision across the region. Back in 2011 Blaenau Gwent had the highest unemployment rate across the whole of the UK. We wanted to invest in a community that we knew had so much to offer. The move to the Abertillery office heralds' further commitment to the area'.
Odette Flower, Branch Manager for the operation adds 'we are now delivering over 4,000 hours of care provision across Newport, Torfaen, Monmouthshire, Blaenau Gwent and the Aneurin Bevan Health board. We employ nine office staff and seven senior carers. On top of that we have over 150 active care workers on our books. Our success has been in part to those staff who have happened upon this journey with us; without them our reputation for excellent care provision would not be as strong as it is'.
The ND Care and Support team now have four bases across Gwent, Cardiff, Cross Hands and Devon. The team can provide their staff with a full induction package and extra training in specialist areas such as Dementia, Brain Injury and Challenging Behaviour. Additionally, all care workers are given the opportunity to work towards a QCF Level 2 and 3.
The team held an official opening event on Friday 10th November which was attended by over 70 guests. Rebecca Ford summed up the day 'having so many people here to celebrate our firm commitment to the region is inspirational. It really does sum up how far the team has come in recent years and how much we feel a part of this community'.
‹ Previous article
Next article ›