In last week's Meet the Team Q&A, we introduced you to Ken Price, the Registered Manager of the ND Care & Support Cardiff branch. Following Ken's interview, you can get to know one of his team members next. Meet Victoria Welsh, who has worked for ND Care & Support in Cardiff for 11 months as a Care Coordinator…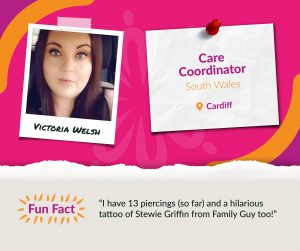 Do you have a background in care work? Can you tell us more about your career journey so far?
I have worked in care for 6 years now (time flies!) I originally started out as a Care Worker, but soon progressed and was promoted to Senior Carer. I did that role for roughly a year before I was promoted again to Field Care Supervisor. I have gained my Level 2 and 3 QCF in Health and Social Care since I started working in the care sector and have now recently started my Level 5 in Leadership and Management for Health and Social Care too. The care sector has offered me so many opportunities for a fulfilling career, so caring is not just a job for me.
After working as a Field Care Supervisor for a while, I then decided to have a change from working in domiciliary care and chose to work for the NHS instead. I worked in hospitals for the Cardiff and Vale Health Board, but after a year of doing that, I realised that my real passion was in caring for people in their own homes to ensure they are able to live at home for as long as possible and make a real difference to their lives.
What does a day in your role look like?
Every day in my role is completely different to the next and it can be quite unpredictable.
I'm responsible for coordinating just under 1000 hours of care work per week to ensure that our service users have appropriate care arrangements in place. As well as coordinating the care packages, if a Care Worker is unable to come into work for any reason, I usually go out and provide the care myself, so it is still very much a hands-on role.
A typical day in my role can consist of:
answering queries from service users or Care Workers
invoicing the Local Authority for the care we have provided during the previous week
supporting our staff by doing supervision sessions and appraisals
interviewing potential new care staff
reviewing and updating care plans
assessing our capacity to take on more packages of care within Cardiff
planning and covering any annual leave or last-minute absences.
This is just a few examples of what a day in my role looks like, so as you can see, it really keeps me on my toes!
What key skills are required to do your job?
Organisational skills
Good communication
Caring nature
Ability to support others
Passion for care
What do you enjoy most about your job and why?
I always enjoy taking on new client packages and providing care to a high standard, because it makes me feel that I can make a real difference to peoples' lives, enabling them to live at home as safely and as comfortably as possible. I also enjoy going out to provide the care myself and being hands-on when working with my care staff to ensure that our vulnerable service users receive the high-quality care they require.
What day-to-day challenges do you face in your role?
There are many challenges in my daily role, such as trying to cover shifts last minute if a Care Worker can't make it. Usually, if I can't find suitable cover, I must drop everything to provide care in the community myself, no matter what I have planned for the day ahead.
Another challenge I sometimes face is service user issues that can be complex and difficult to resolve, but I enjoy the challenge and it is rewarding when I'm able to find a solution.
What challenges does the wider care sector face? How do you feel you are making a difference to this?
Recruitment of Care Workers is a sector-wide issue at the moment – I feel that this may be due to the lower pay that Care Workers receive in contrast with what they actually do on a daily basis. However, I know that a lot of Carers work in the sector for more than just the pay – it is far more rewarding in many other ways!
At ND Care & Support, we try to make a difference by paying our Care Workers a little bit extra and by offering incentives such as our 'refer a friend' scheme. This enables whoever refers a new Care Worker to ND Care & Support to receive a payment of £100 after a successful probationary period, as a thank you for helping to boost the care sector.
What is your proudest moment in work or your greatest achievement in your career and why?
I'm really proud of achieving my QCF Level 2 and 3 in Health and Social Care and I cannot wait to finish my Level 5 qualification next too.
Since I started working with ND Care & Support, I have also won an Employee of the Season award and Carer of the Year 2019 award. I had such lovely things written about me by my colleagues and peers in the awards presentation booklet, which made me feel very proud and very valued. I think these are my greatest achievements in my career so far.
What advice would you give to candidates who want to go into care work?
If you are passionate about others and strive to make a difference to peoples' lives, then I would urge you to apply for care work through ND Care & Support. I never thought in a million years that I would be able to care for people, but I took a leap of faith and absolutely fell in love with the sector and couldn't imagine doing anything else now!
Tell us a fun fact about yourself
I have 13 piercings (so far) and a hilarious tattoo of Stewie Griffin from Family Guy!
What is your favourite quote and why?
My favourite quote is actually a poem called The Care Worker. I love it because it gives an insight to what care work is really all about and it also highlights the harsh reality that we take care of people who have no family around to support them, making a huge difference to their lives.
I wake them up, I get them dressed,

I brush their hair so they look their best.

I make their bed and wash their clothes,

The little things that no-one knows.

I hold their hand when they are scared,

I talk to them when no-ones there.

I give them a friend when they are alone,

I treat them like family, like one of my own.

And when it's time to save a life,

I keep my heart strong, and hold my head high.

I wait 'til it's over, when everything's done,

When the house has gone quiet, the emptiness comes.

So please don't judge me, when you think I don't care,

I look after your family, when you are not there.
Do you share Victoria's passion for caring? Could care work be the perfect career for you too?
Contact us to find out more about registering with ND Care & Support as a Care Worker and tune in soon to meet the next member of the ND Care & Support team…