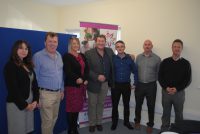 A leading care provider has opened its doors in West Wales as a direct response for demand from the community in the region.
ND Care and Support – an organisation which offers a comprehensive range of care services to individuals within their homes and their local communities has set up home in Cross Hands.
The business already has two thriving hubs in Cardiff and Brynmawr and now the additional branch in Carmarthenshire will add to the growing care provision by the team across South Wales.
At an official opening event held on Thursday 17th November 2016 at the Cross Hands Business Park site, Director of Care for the organisation Becky Ford said "this branch and its foundations have been in planning for some time. We have worked to understand what the region needs in terms of care packages for individuals and have appointed two really experienced team members to drive our business forward. Clive and Andrew are really progressive experts both in terms of the area and the knowledge of the sector across West Wales. We are excited to see how they shape this venture for ND Care and Support".
The event which was attended by over 50 local community partners heralds further investment in the region by the New Directions group who also recently opened an office in Swansea as part of their Social Care provision.
Clive Pearce who will spearhead the Cross Hands Team spoke of future plans for the branch "ND Care and Support is a really well respected brand. The work ethic and the quality of staff that they employ in both Cardiff and Brynmawr is testament to that. I want to emulate that success here, build for our region and support a sector that gives so much to our communities. We know that we have the best staff to support individuals with their own unique care plans, but it is our extra commitment to ensuring that they are always developing – be that training, mentoring or other avenues – we don't stand still".
Also attending the event from Aspiration Training was John Diamond who wished the business well commenting "It's a fantastic opportunity to have a quality care provider in this neck of the woods. We will support the business in any way we can and also hope to use their brilliant facilities for training in this area."
Lesley Owens, a Carer in the region added "I've worked with both Andrew and Clive in the past. They know how to build a business and they know how to look after carers which is important. The company supports and develops us and it's great to work for managers we can trust."
For more information about working with the team call 01269 839503