Direct Payments
There are various forms of funding available to help individuals and families with the costs of domiciliary and live-in care. The government provides financial assistance, advice and other forms of support to most elderly, sick and disabled people who need help with their personal care or nursing. ND Care & Support will be happy to provide you with assistance in obtaining relevant funding.
Community Care 'Direct Payments' in Wales
Councils are obliged to offer you direct payments (if you meet certain conditions) to pay for your own private home care arrangements and related activities.
ND Care & Support can still provide care for individuals in receipt of direct payments. Using ND Care & Support allows the flexibility of using direct payments with none of the hassle of recruiting and vetting care workers.
Read our Frequently Asked Questions (FAQs) information sheet here: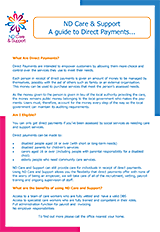 Benefits of using ND Care & support include:
Access to a pool of Care Workers who are DBS checked and vetted to CSSIW standards for Wales
Access to specialist Care Workers who undergo regular training to update their skills
Access to administration functions to manage staff payments and supervisions
To find out more about direct payments and how ND Care & support can help, contact our team