Blue Light Card: More discount savings than ever for Care Workers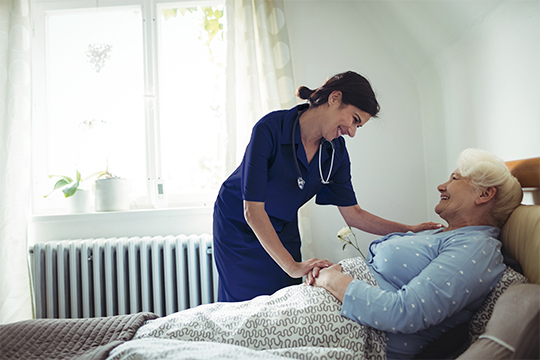 As recognition of key workers has grown during the coronavirus (COVID-19) pandemic, the Blue Light Card has surged in popularity and it now gives special access to discounts from 15,000 partners.
Care Workers with ND Care & Support can take advantage of the discount service, which now has more offers available than ever before, and we'll happily cover the cost of membership.
What is the Blue Light Card?
The Blue Light Card gives discounts to those working in the emergency services, NHS, social care sector and armed forces.
Spanning from large national retailers to small local businesses, the Blue Light Card has a wide range of partners and there really are savings for everyone. Members can access discounts on high street retailers, restaurants, cinemas, holidays, fashion, tech, insurance and much more.
There are more than two million members already accessing special discounts. If you work at ND Care & Support and haven't registered already, you're probably asking yourself what you're waiting for!
Where do I register for a Blue Light Card?
To get a Blue Light Card, you will need to apply for it yourself. You need to create an account and register on the Blue Light Card website.
There's a quick online form to fill in as part of the registration process. It will ask for your details, such as your job title and employer, and request proof of employment. To be accepted, you need to show a form of ID with your full name and employer. You could use your ND Care & Support ID Card or a wage slip.
Once that's done, you can set the delivery address as your own home or ND Care & Support and your Blue Light Card will soon come in the post.
How does ND Care & Support cover the cost?
As a thank you to our selfless and inspirational Care Workers, ND Care & Support will cover the £4.99 registration fee for a Blue Light Card. This gives access to the discounts for two years after purchase.
All you have to do to be fully reimbursed is bring your physical Blue Light Card into a ND Care & Support office. This can be the headquarters in Cardiff or the branches in Abertillery, Cross Hands, Powys or Rhondda Cynon Taf.
Once you've done that, you will have access to thousands of discounts and it won't have cost you a penny! You can use the Blue Light Card's handy mobile app or the website to start making savings.
Working with us
Our Care Workers make a difference for local communities every single day. Often going the extra mile, they support service users to live as happy and fulfilling lives as possible. The care, compassion and commitment it takes to be a Care Worker is second to none.
At ND Care & Support, there are a number of benefits to ensure you feel valued and you're able to provide the best care possible. This includes continuous professional development, progression opportunities, support to achieve qualifications in Health and Social Care, and more.
Take a look at the benefits of working with us.
We're always looking for compassionate and dedicated Care Workers. If you're interested in a career in care, get in touch today to find out about everything we offer
‹ Previous article
Next article ›